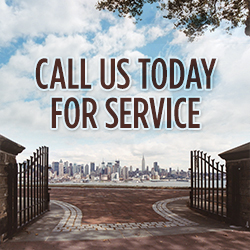 Contact us now! Don't wait till the problem with your automatic roll up grows and demands costly repairs! Our company provides same day services and all technicians are knowledgeable and have incredible skills. Why don't you call us and we can troubleshoot your gate today!
Don't hesitate to call our contractors for questions or to ask assistance! We keep the best equipment and repair parts in New York and have the expertise to solve problems, replace the damaged parts and respond fast to your urgent gate issues. Trust our installation and repair services! Call us today!
We are a group of trained and skilled professionals who are not scared to face the unique challenges in this industry because we believe in our capabilities. We are committed to delivering superior services to our clientele. Since we carry different types of gates, we can come out and install a gate of your choice. At the same time we are enthusiastically aware of our responsibilities as one of the leading electric gate repair companies around. There are many people who rely on us because we always do the job right the first time.
Years ago, we only oiled broken hinges and repaired worn-out handles. Now, we offer a full spectrum of gate repair services covering every possible gate trouble. We repair, maintain, check, fine-tune, install, reinforce and perform every service in between when it comes to gates. Our services are for residential and industrial gates, standard to fully-automated structures. With every repair job, we stamp our mark of excellent execution – precise and speedy. Professional repair technicians, fully equipped with training and tools, respond to your repair calls. We always make sure to get to clients as soon as we can, especially during emergencies. We also strive to accomplish the job in the quickest manner possible.
Call us now: 718-269-7819